Discussion Starter
•
#1
•
After trading my old bx1500 for my new 1025r I noticed the lift arms were farther away from the drivers station. This made it nearly impossible to reach my manual crank rotator lever. Not having aux rear hydraulics I found another solution prior to trading ... Wireless Electric!
Built my own motor bracket, purchased the correct fitting love joy connectors, a wireless controlled motor from wonder motor (great customer service btw).
Here's the fab: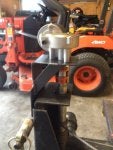 Here's a link to a video of it working :
http://youtu.be/OwMJxCgwnvE
Used it all last winter and it worked flawless on the 1025r!