Hi good people of GTT.
I am getting closer to installing my LED Light Bar on the *underside* of my ROPS.... and two (2) small LED lights to my blinker guards for a 'REAR LIGHT' source.
I bought the following 'switches' and 'Switch bezels' and know where I would like to locate them, but want to see what you all thought.
My concern with the location shown in the attached photos is:
I have to install my Light Guards first...any concerns or tricks there in regards to wiring, etc?

Has anyone ever removed the black plastic console cover that the fender light is mounted to before? I assume it is hollow space beneath it? How is this removed - just the one screw on the top?
Can I thread the wires, wrapped in a split wire loom plastic protector, into the empty area beneath this control console cover to the 'seat side' of the OEM Fender Light?
Is there any concern about 'water exposure' in this area?
Any concerns I am not thinking of?

Switches I want to use: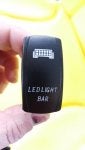 This is where I want to locate the Switch Housing/bezel and the Switches:
Light Switches just *taped* into place to show where I want to put them.
Also, I am having a helluva time getting a definitive answer from SuperBrightLEDs.com on this question... which I posed as a result of watching the following video as the switch is demonstrated after the wiring in the YouTube video:
https://www.youtube.com/watch?v=EFsZgl4fw-U
*QUESTION/CONCERN: I want to install this particular switch on a John Deere Sub-Compact One Family Tracor..... the 1025R, which is a compact 4X4 3 cyl 24hp diesel with a 12 volt battery. I notice that when you have the 2nd light wired up, the switch stays 'lit' in the 'off' position. This concerns me.... will it drain the battery? Is there a way to wire the switch so that when the tractor is not 'running' there is no light, lit up???
Do any of you wiring GTT guru's have a way to wire the switch so that it only lights (on or off) when the tractor is running and the key is in the 'on' position???
SuperBrightLEDs.com shows this diagram with the listed part online:
Thanks everyone! :bigthumb: