I completed the initial 50 hour service on my 1026R today and wanted to share some notes with you guys.
Tools required
Flat tip screwdriver
10mm socket and wrench (engine side panel removal-optional)
pliers
13mm wrench
6mm Allen wrench
oil filter pliers
transmission oil filter p/n LVA16054
4 Gallons of low viscosity Hy-Gard (J20D) fluid
a LARGE drain pan capable of at least 4 gallons. Bigger if you have it.
3/4" socket for removing wheel
floor jack and jack stand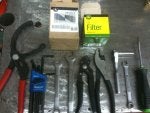 I also changed the engine oil so you'll see the 17mm wrench and oil filter p/n M806418
The 50 hour initial servicing of the trans is pretty straight forward. You need to remove the left rear tire.
Drain the trans by removing the drain plug with the 13mm wrench. Lower the mower lift arms to get more room to access the trans filter. My filter was TIGHT. I needed the filter pliers to loosen it. I partially filled the new filter and lubricated the gasket prior to installing it. Next the oil pump suction screen need to be removed. This is very important. The suction screen is at the bottom rear of the trans. Remove the suction hose clamps and remove the hose. This is what you'll see.
Remove the Allen bolt and pull the screen assembly out of the trans. Here's what mine looked like.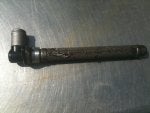 Don't forget to clean the magnet inside the screen!
Remember how much oil is in the transmission?
A couple of tips.- Remove the dipstick (engine or trans) during draining or filling to let it breathe and prevent surging or bubbling in your funnel or drain pan. I purchased a 5 gallon bucket of low-vis Hy-Gard as it was cheaper and I have some left over. Lower your 3PH for a more complete oil change. Use a jack stand- 'nuff said. Engine oil change is so straight forward there's nothing to really note. Do not overfill. It's much easier to add than remove a little oil. The trans level will come up all of a sudden, so sneak up on it. I used this opportunity to grease all of the zerks for a complete service. The picture of the trans suction screen says it all. Don't skip this important service.:good2:
EDIT:
It's important to operate the steering and activate the PTO several times. This will help eliminate possible air bubbles that will prevent proper operation after draining all of the fluid. Work all of the hydraulics a few times and recheck the fluid level. Top-off as needed. :good2: