Discussion Starter
·
#1
·
Hi guys, I'm new here but I just bought a used 2305 John Deere with 62C deck and the 200cx FEL. Really nice piece of equipment...
Now before I start using it like it's supposed to be used, I really like to do a complete maintenance check of all oil levels, filters an such, just to be sure that the dealer I bought it from did it's homework. (not that I'm paranoid, but better to be safe than sorry no?)
Following the JD manual for the 2305, I checked the front axle oil level, it just needs a little more oil, but nothing to worry about. The only thing I wanted to know from other 2305 owners is the following:
In the manual it states that to check the transxaxle oil levels, you can see a tiny sight glass with the current oil level. It should be around 1/2-3/4 of the sight glass, but my sight glass is completely red? No visible lines of oil? There is no dipstick backup option to check levels, so now I'm very hesitant to start it back up again until I know this is normal or if I urgently need to fill it up / drain it a little.
Image of the sight glass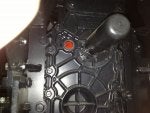 Can someone else post a picture of how this should look like when correctly filled?
Thanks !