Like everyone else I hate greasing the u joints. I only do it like once a year. Several members, crna for one, has done the u joint replacement, but none have written it up for the rest of us on the forum. Since it was time to grease the u joints, i decided just to change them out. Four auto parts stores here didn't have a one, so I had to order some in.
u joints:
Napa #: UJ410 The ones I finally got.
Others I found while doing research. I can't confirm they will work
Moog 410
Kubota # 37410-13722
Must have Tools:
10, 12, 13, 21 mm sockets
4-6 inch c clamps
5 mm allen wrench
1/8, 3/16 pin punches
Snap ring pliers: I got a channellock 927 for the job. came with several tips and can go external or internal. Could have used longer grips on them my only complaint. Stupid hole way to small.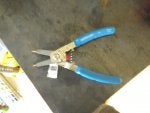 1. Dissemble the plastic cover on the steering wheel console like you were going to grease the u joint. If you are this far just a little more and you'll be at the drive shaft.
2. Unhook the cruise control and parking brake levers. @# cotter pins were wrapped around the bolt and were a pain to get out. When I reassembled these I used a hair pin clip.
3. Unplugged the 3 wiring harnesses.
4. Lift and remove lower steering plastic cover
5. Unbolt six 12 mm floor bolts
6. Remove brakes, fwd, and reverse pedals. TIP: Don't use your Milwuakee m18 driver on the 5mm allen wrench bolt head. One came out fine the other stripped. Had to go and get an ez out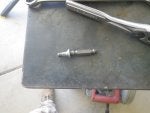 7. gently pry up deck height adjustment knob
8. Remove the knob under seat
9. Lift up and remove floor. TIP: Use a paint pen to write on shafts and mark the yoke ends so you can reassemble them correctly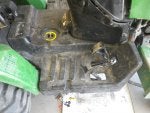 Spray shafts, and pins with penetrating liquid. Why did JD have to attach shaft to the front u joint. The rear one would have been just as good and quite easy to work on. But no, JD engineers are sadists. Let make these suckers work in a tiny 3 in opening.
https://greenfarmparts.com/parts-diagram/#/John_Deere/2320_Compact_Utility_Tractor_-PC9499/DRIVE_SHAFT%3a_POWER_TRAIN/94990002/9499D471C0405000006
see parts diagram on bottom of page
10. Use the snap ring pliers with 90 degree tips. Use every cuss word in the book and vow to track down the jd engineers are do grievous bodily harm to them.
12. Spray pins and spindles with penetrating liquid
13. use 1/8 punch to tap out small pin. I added a ratchet extension to the punch to give it more reach. Swear to invent time machine and go back in time and kill jd engineer's father to prevent birth.
14. use 3/16 punch for larger pin with ratchet extension
15. try to remove shaft by sliding back and forth. Fail miserably, still needs 1/4 inch to come off. Go have a beer and have lunch. Curse jd engineer's mother for giving birth to the SOB.
16. Pull snap rings of rear u joint yokes.
17. Use hammer and 13 mm socket to tap caps off rear u joint yoke on one side. Rear u joint now free.
18. Slide off both front and rear yokes
19. Remove remaining snap rings and remove old u joints from shaft. I used hammer 13, 21 mm sockets and 4-6 inch c clamps to do this.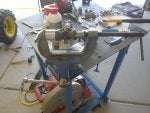 20 Clean up old grease from yokes.
21 install new u joint in the front. I removed the grease zerk while doing this. TIP: Also, check the grease zerk shaft make sure it isn't too long and will bottom out on joint pin. I used 13mm socket and c clamps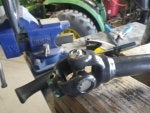 22. Install new u joint in rear yoke like with front one, but only do one side. I did the short one.
23. Side shaft with new front u joint back on fly wheel
24. Tap pins back in hole. TIP: I used my ratchet extension and smallest socket I had to get them started in the hole. Decide jd engineers must be the devil incarnate here on earth. This is definetely next level torture trying to working in this small hole
25 Now put the PITA snap ring back on. Again curse, swear vengeance, make mental note to buy lots JD stock so I do a hostile take over of JD and fire the engineers.
26 Slide small rear yoke on transmission spindle
27 Assemble rear u joint with 13 mm socket and c clamp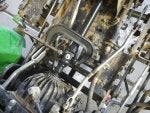 28 grease zerks to make sure they work. YEAH BABY!!!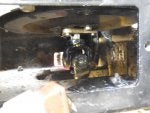 29 reassmble tractor. TIP: Make sure the parking brake shaft is on top of floor.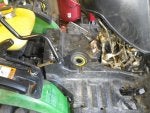 Like I said working on the front u joint in that tiny hole is a major PITA. Took 5-6 hours with a couple of trips to hardware store. Old u joint caps could have used more frequent greasing they were a little dry.