Discussion Starter
·
#1
·
Hi Folks,
On the weekend I sprung a hydrolic leak. There was hydrolic fluid everywhere under my tractor. Once I got things cleaned up I was able to narrow down where the fluid was leaking from. I found that it was coming from a bolt going through a banjo fitting on a line that goes to the front of the tractor. The bolt that runs through there is hollow with a screen in it. I'm going to assume that its for the power steering. Anyways in doing some reading and research I found out that it's not unheard of for the copper crush washers to fail causing a leak. Off to my dealer I went to get some washers. Sadly they sold me the wrong washers which caused me to over torque the bolt breaking it off in the pump. Thankfully I was able to get that out without much hassle. Back to my dealer to get a new bolt and the proper crush washers. I've now reinstalled the new bolt with two new proper washers and it is still leaking. The leak is not spraying out but more of a constant drip. I'm nervous about over torquing the bolt again and breaking it.
Here are some pics of were the bolt is located. Wasn't the easiest thing to get at.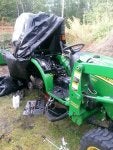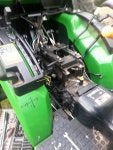 Is there a trick to getting copper crush washers to seal or a better way of going about this?
Shane