Discussion Starter
•
#1
•
Steep slopes + scrap metal + plasma cutter + Boredom = backhoe-mounted mower!
Our property is hilled and stepped, and has steep walls that need occasional taming. Hey, why not mount a cheap mower to the backhoe. Isn't this why they make safety glasses and hard hats? Let's do some enginerding while we let the neck get a sunburn.
Camera is level. I'm parked a little far from the edge in this shot. normally I'd get the upper edge of the hill with a string trimmer. That gets harder as it gets steeper. Here's where the mower comes in handy.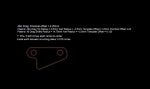 White line represents final plasma cut line. Red line represents boundary of CNC-cut wood template for plasma cutter. (Mechanizing plasma cutter is on the "list of things to do.")
$40 Craigslist 20" mower. CNC-cut plasma template, scrap 1/4" steel plate, 1.5" angle iron, some welding. Oh, and Deere green paint. Why leave the wheels on? Everything moves easier on wheels. Gray metal in between is the BXpanded quick mount, which, along with their ripper and thumb (for which I have the parts to convert to hydraulic this winter), is worth every penny. Takes <30 seconds to swap a bucket for the mower
The mower can be started and stopped from the operator's seat. There's a bullet connecter at the end of the dipper for connecting the kill switch.
Here's a quick video: