I'm not an electrical guy, so I'm afraid to say that I'm still struggling with the starter improvement kit I'm trying to install on my '83 420.
I got all the shields off last night and looked for the connections that the instructions say should be there, but nothing matched. I see no purple wires. I see no connector to plug into the kit. I see no wire harness to tie into. Here's a couple of pictures. Maybe somebody before me altered the stock wiring? Are the kit wires supposed to be extended so that they reach back towards the dash board wiring? I've got to be missing something.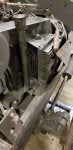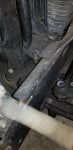 Oh, and here's a picture of the kit with it's connectors.