Discussion Starter
·
#1
·
Greetings from PA! New forum member here, and I come to you all with a question I stumped with.
I'm a brand new owner to a 2002 4310 E-Hydro. I picked it up with a 430 FEL, and a JD47 Backhoe frame mount. 1330 hours.
Aside from being normal tractor dirty when I picked it up, it runs out real nice, is strong as an Ox, and is just a fantastic overall machine.
After I de-greased then re-greased, I opted to do all new fluids/filters etc. to get myself started at a baseline point. All fluids looked great, and were exactly where they needed to be, and not wore out and nasty. Seems to be well cared for, other than being filthy. I haven't done the hyrdo filter/fluid replacement just yet, I'd like to get everything in order.
More to the point. I found a couple leaks, albeit small for the most part. One outrigger cyl needs re-packed, and I seem to have an "occasional" wheel seal leak on the left front - but only under heavy loads on a sloped incline??? Otherwise it doesn't leak. It's already carted a 1000lb + tree stump out of my back yard with little argument. I have plenty of power.
My biggest concern is a leak on the underside where the main unit bolts up the the hyrdro in the rear. At first I thought it was a "LEAK", but after cleaning it up, and keeping an eye on it- it seems I have more of a weepy gasket perhaps?
I'm a self admitted perfectionist, and should realize its a piece of machinery and its bound to have issues. I'm pretty confident the leak is would be be a major $$$ repair. Perhaps I'm wrong.
Is it worth worrying about?
I'm not big on using "Stop Leak" products" especially in a JD, but Lucas makes a Hydro Fluid/Leak stop. I've always liked their products, and have nothing bad to say about them. Is this an option?
Should I just ignore it, monitor the leak and levels and keep working?
Prepare for a disaster and plan on repair?
I plan on getting the torque specs on the bolts, and just double checking - that's step 1...but I touched on them last night, and they all seemed sufficiently tight.
I cleaned the area, then peppered it with Baby powder to see if i could pinpoint where the Hydro was coming from - mission accomplished.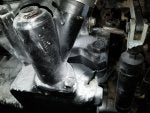 I took a one minute video of my issue. If you'd like to have a look, here is the link, I have it on my Google Drive.
VIDEO
I can't thank everyone enough, I've already used this forum/site countless times to answer plenty of other newbie questions. I'm not totally green to tractors, been on them all my life, this is just my first major tractor, and I'd like to get her right, and keep it that way.
TIA!