I have a NEW (50 hrs) 5085e 2015Y.
A squealing/buzzing/vibrating noise is coming "primarily" from the rear dual SCV (selector control valve).
This is a LOUD ANNOYING NOISE!!!
It could loosen teeth fillings!!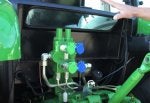 NOTE: Tractor is equipped with the loader JOY stick but no loader attached mounted at this time.
If loader attached ALL symptoms the same.
Here are the symptoms:
All noise occurs at warm/hot oil temps (barely noticeable at cold morning startup 60 degrees).
Noise begins at 1200rpm and TOTALLY and ABRUPTLY stops at 1400rpm.
Example: At 1700 rpm Hydraulics are QUIET!
Hydraulic lift control levers in neutral position.
No rear hydraulic implements attached.
At engine speeds of 1500 and greater NO NOISE (some noise again at 2200 and up but I can understand that).
What has been done/tested so far:
If you push BOTH control levers to FLOAT noise reduces by 90%
If you DO HAVE an implement attached to EITHER rear outlet (duels on back) , during raise or lower operation NOISE IS GONE.
If you apply VERY SLIGHT PRESSURE to the control lever (not enough to engage hydraulic selector just put pressure) you can make the NOISE BE GONE.
Lines are ALL CLEAR and examination for rubbing... NONE FOUND
Rear SCV (dual selector control valve) was REPLACED by John Deere with NO EFFECT.
Using a stethoscope the NOISE is coming from the rear SCV.
It appears a "harmonic vibration" is developing in the SCV.
The lines also vibrate but the ALWAYS vibrate, even when the SCV is NOT making noise.
At idle, there is a noticeable but slight CLICKING sound at about a 300rpm frequency which seems to become the squeeling noise when throttle advanced.
I need help:
The dealer does NOT have another model of this tractor for comparison.
John Deere Company says its normal.
Please can someone who owns a 5085e describe how "their" tractor sounds at the rear SCV body?
I first am trying to establish if "It really is normal".
Once I establish that I will go after John Deere AGGRESSIVELY!
Thanks for all you help!!