Discussion Starter
·
#1
·
I did my 600 hour hydraulic oil change this morning on my 2013 1025R. It all went very smooth with the exception of the bottom spring clamp for the rubber hose connection. Always a little trouble getting it to move upward and off the hose. A knuckle buster and skin for me.
The top and bottom of the screen had small metal shavings.
The inside of the housing showed little spots of rust color that I was able to wipe away. Not sure what that was all about, but could be from when I wash the tractor sometimes. The tractor never sits outside. The hydraulic oil was not milky looking.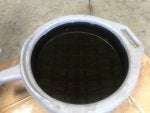 The used hydraulic oil looked somewhat dark with NO milky look. Looked normal for 200 hours of normal use.
The container and the picture makes the oil look darker than it really is.
At the 600.5 hour mark and ready for another 200 hours of work.
I didn't take a lot of pictures of how I did it, but you can look at this link of what I did when I did the 400 hour change.
Search results for query: 400 hours hydraulic oil change