I've had greater and greater difficulty getting my 60D to mate with my 1025R. Today finally I spent roughly 45 minutes trying to get it to attach before giving up. Upon closer inspection, it seems the right "arm" that receives the lift "knobs" has bent in such a way that the "knob" can no longer slide into the slot. The left side seems fine. Has anyone encountered this problem before, and is there a way for me to fix it?
I made the problem worse by trying to drive with the mower half attached... It was in the way of my vehicles so instead of dragging it out of the way I tried to drive it out of the way. Unfortunately the deck fell off halfway through at an awkward angle (basically it was 45 degrees underneath my tractor) and I could no longer back out over it in the standard route, and when I finally got off of it, I had also bent one of the deck's wheel holders. I know, it was stupid -- I was really frustrated at that point and I let it get the better of me.
Some pictures:
That's the left (not bent) arm. Notice how my flashlight is able to slide all the way into the slot.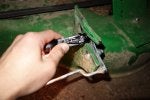 That's the right arm. That's as far as my flashlight is able to slide.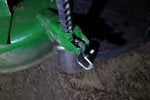 Collateral damage due to my frustration.