Discussion Starter
•
#1
•
Before I pull the trigger, can someone please check my selection for a mulch kit on a 60D mower attached to a 2015 1025R?
Per Green Farms Parts, I have two choice based on serial number of deck: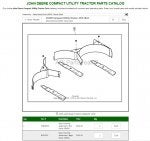 My deck serial number is
059675
, meaning I would select BM23978. Agree? I find it interesting there a fairly large difference in price. What might cause that?
I have seen several folks mention in other posts their purchase of the TCB10953.
I plan on purchase the corresponding kit to my serial number but if anyone has any inside knowledge I'd love to hear it. Thanks