I'm a firm believer in monitoring important info while driving. My truck has oil pressure, engine temp, voltage, tach, speedo, and fuel in the dash along with some idiot lights. Since my ECU has been confirmed to be reprogrammed via a scanner, I decided I needed the gauges sooner than later to make sure the tune isn't too hot for my intended usage.
The factory dash doesn't have much realestate for adding 2" holes, and adding the pods all over does a couple things I don't like: first, they attract attention! Cops love seeing a pillar gauge pod and seeing just how fast you're going or noticing that you have a signal out; they just seem that much less forgiving when you have the wall of light in front of your face. Second, they're distracting and hard to see through. The backlighting for pillar mounted gauges seems far less forgiving to me than if you put them somewhere else.
Some guys are putting pods up above the rear view mirror, and that's not such a bad idea, but that's a lot of screwing around to get mounted. It also shows up to anyone behind you unless you've got a trailer or a big load in the bed. Not so cool.
Then I stumbled upon the F650 lower dash panel(s). BINGO! There's an automatic transmission version which has a wall of space designed to be filled with switches and gauges, and then there's a manual transmission one that's only set up for a row of switches and a couple gauges (or maybe the air brake valve?). I went with that one because the bigger automatic one just seemed so out of place in my cabin.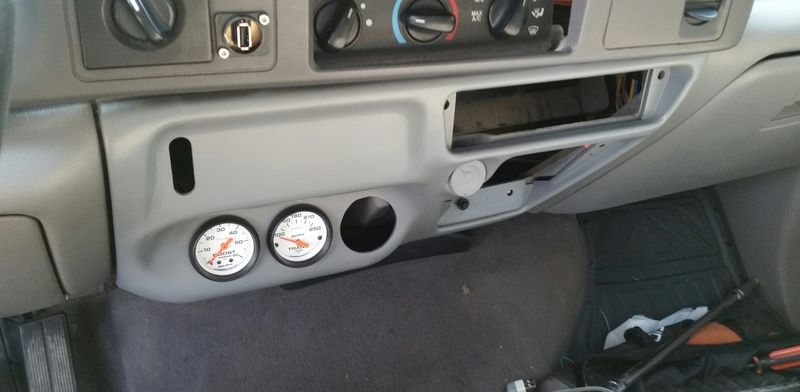 The duplicolor vinyl and fabric paint isn't quite right, but this pic makes it more pronounced than it appears to the eye. If I ever care that they're not a perfect match, I can always spring for the more expensive factory match paint, but so far I'm liking this look. I painted my cup holder and trash hook to match, so the center of the dash is all the same tone. There's 3 different shades on the door panels and those are factory - so it's, well, just like a ford. :mocking:
I'll need to decide what switches I want to add to the space above the gauges, but I'm not in a huge rush on those yet. The hole doesn't bother me.