Discussion Starter
•
#1
•
Just for the record here, 56FordGuy stole my idea. Plain and simple. I even bought my tank before he acquired his. :laugh:
He's just a little quicker than me....

Now I have a crazy mole problem. My entire neighborhood has one. Because our soil is mostly clay littered with plenty of rock, it's very difficult to find a smooth area. So I've been wanting to get a lawn roller to assist with these issues. I looked at getting a commercially available one, but they were small, cheap, and fairly flimsy. I had major doubts on whether or not they were up to the task of smoothing out multiple yards to the extremes I have. So let's build one!
:danger:
Be aware of the dangers of welding and grinding on a tank, let alone a tank that was used for flammable substances. I took many precautions before proceeding.
:danger:
Like a bunch of my projects, they don't get done at high rates of speed. Sometimes there's long periods of "planning time" in between work sessions. Yeah, that's it. Planning time. :thumbup1gif:
So this one kicked off last year when I purchased a tank for $100.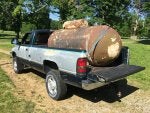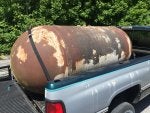 Shortly after getting it home, I cut off all of the fittings and junk off the top.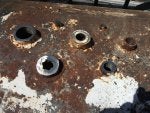 Holy Crap!!!!! Don't ever do this to an old propane tank near your home! This was an old propane tank, so there's plenty of residual Mercaptan in the bottom of the tank. That's the stuff they use to make propane smell like propane. It doesn't take very much to make it stinky. Well there was roughly a quart of used motor oil looking stuff in the tank. I decided to roll the tank over and drain it out. Shortly thereafter THE ENTIRE NEIGHBORHOOD STUNK. We thought there was a gas leak in a nearby gas pipeline. It was bad! I filled the tank with water, drained it and repeated several times. I dumped gallons of cleaner, degreaser, heck, even bleach, nothing worked. The inside of my home smelled like gas for two or three days. Make no mistake, there was no gas, no danger, but it reeked to high heaven. I have good neighbors..... It took weeks for that smell to wear off around that tank.
It was terrible. :lol:
Fast forward to a few weeks ago. Now I can be around the tank and I don't smell anything. :laugh: I got happy with a cut-off wheel, a torch, and some grinders. I cleaned the tank off of all of it's original goodies to include the fittings, lifting handles, and feet. I then proceeded to weld up all of the holes. I also welded on some of Ken's weld-on hooks for ease of moving it around. It's about all the 2720 can do to lift this tank. I also acquired a farm and implement axle from a neighbor who had a few laying around. He's excited about maybe fixing his yard so the price was perfect, free. :good2: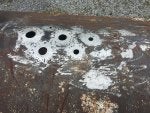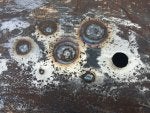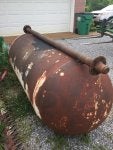 I set the tank up on some machinery skates that were set on the floor rollers up. This allowed the tank to roll on its axis.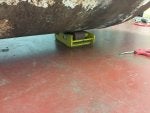 Once the tank was able to roll and stay in place, I was able to mark the centers of the tank by using a "calibrated stick" and a marker. Rotate the tank and repeat. Once you have a bunch of marks, you average out the marks and there's center.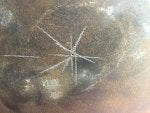 More to come. :thumbup1gif: