Discussion Starter
•
#1
•
This all started a couple of days ago, I've been looking for a NTM pickup. Found one Tuesday just north of Kansas City, called the dealership & discussed it with a salesman. Arranged to go check it out this morning, salesman called about 7 pm yesterday to tell me it had sold, so I started looking on the internet again. Found a nicer one in Waukee, IA (west Des Moines), made the call before 8 last night, talked it over with a salesman, made a $500 deposit to hold it for us. We left home at 6:30 this morning to get there by 9:30, looked it over, drove it & made the deal. I had them add a few things & it was after 1:30 when we left the dealership. Got just to the south edge of DM, in a construction area where they were tearing out a lane. The car in front of me jigger over & I didn't have time to miss the nearly bowling ball sized chunk of concrete with a piece of rebar sticking out of it! Ruined the right front tire, I got off the road OK & fortunately for me, the Iowa DOT job supervisor saw it happen! He picked up the chunk, then came to check that we were OK. Then he went for the construction foreman, when the foreman finally arrived, he shrugged & asked what he was "supposed to do about it". I told him the chunk had obviously fallen off one of his trucks & his company was responsible. He made a phone call & came back with an entirely different attitude! I'm sure he called his boss & was told to take care of it! He checked the tire brand & size, called a tire shop & after 2-1/2 hours setting beside I 35, we were on our way with a new tire paid for by the construction company! I'll still need to get it balanced, but that's no big deal.
By 8 pm, we finally made it home with our new (to us) Chevrolet 1500, 4wd crew cab, 16,700 miles: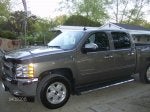 Now, I'll spend at least the next two days getting it set up the way I want!