My electrician has been good tome over the years. we work well together help each other out when needed and don't keep score on the personal stuff. A few years back he built a barn/storage building and left a hole inn the side of it for some entry doors. A lot of his contractor friends helped with various stages of construction and he has been using it for a while. His cabinet maker friend was supposed to make the doors but never did. He asked me to but I was always to busy. This spring business was dead and I decided to do it while I had the time. They are mortise and tenon mahogany 2x frames with 5/4 decking shiplapped board panels. The doors are 34" x 83" and weigh about 140 lbs each. My son was home for a week and helped me out yesterday installing the whole thing.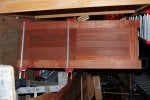 This is a door all put together for a test fitting. They were then disassembled and all the panel pieces and openings were oiled and wiped off. Then glued up with two kinds of waterproof glue.
Now when somebody good comes along could you please rotate these pictures , I am clueless how to do that.