Discussion Starter
•
#1
•
My barn has been a on-going project since 2009. With work and other interest, it's been slowly evolving. It started life as a RV cover, which was originally set up behind my shop. We wanted to add a kitchen & bath room to the shop, so we moved the RV cover to the back yard. I then lifted it 18 more inches to increased the overall height to 15.5', and added a lean-to on both sides.
Fast forward to this year. I closed in one section of the left side lean-to, to make a storage room for my lawn, garden and maintainance related stuff.
Yesterday, I gathered material from the local lumber yard and began working on them. The framing is 2x4's
(none dimensional measurements, of course)
:mocking: utilizing half-lap cuts at the corners and mid-way; fitted, squared and screwed. Exterior material is primed engineered 4'x8', and interior is 7/16" OSB sheathing. I managed to hang one door to the storage room this morning.
Half-Lap cut.
Engineered siding.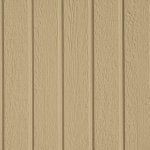 One door hung. The door opening is 6' wide by 8' high.
Once the other door is hung and trim is on, it will look like the ones below. I built and hung these last year on the right side lean-to. The opening is 8' by 8'.
The center opening of the barn is 12' by 12', and will get similar doors.
Interior pics of storage room.
The room is just under 11'x12' and I'm sure it will get full as time goes on.
My son is giving me two more shelving units, and I am needing to add a rack for hanging shovels, racks, hoes, etc..
To be continued.