Discussion Starter
•
#1
•
I found this sitting out by the road for pickup, so I snagged it.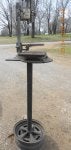 It has 3/8" plate but it's too tall for my needs. Took the old Sears drill press off and cut 7" out of the pipe. That will put the plate around 36" off the floor. I wanted more weight at the wheel so I bolted an old brake drum inside of it and slid 2 brake rotors onto the the pipe before welding things back together. I have room for my 6" bench grinder and another motor with a wire wheel on it to mount. I am going to drill mounting holes before welding the pipe as I can do that on my big drill press.
I'll get some more pics today! Anyone want the old Sears drill press?