Discussion Starter
•
#1
•
With the conversion of my FEL from pin-on to SSQA I replaced the bucket. I chose a 54" bucket for dirt work. I have a 60" pin-on "Light Materials" bucket and it was good for general stuff but lacked a little when trying to heavier work. I will eventually convert it (the 60) to SSQA.
Bucket hooks are the handiest thing since sliced bread so I got some new jewelry for the new 54" bucket.
Where I chose to mount the new hooks lined up with a seam. The bucket edge rolls back underneath and the SSQA mount comes over the top.
I fiddled around with different ideas trying to avoid the seam, but didn't come up with anything that I like better than my original location.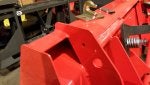 Drilling through the seam took a little patience and I finished it up with a dremel.
The seam left a gap or void on the back half of the hole and I didn't want to just put the washers on and crank it down. Back to the drawing board.
I had purchased some of Kenny's blank plates that worked perfectly! They were the same thickness as the void. :good2:
I drilled the holes using the bolt on hooks as a template, put them over the bucket holes and marked where I needed to cut.
The Milwaukee Hacksall that I got around Christmas time is my new favorite metal modifier! :thumbup1gif:
I cut the hole side and then put it underneath and marked how much needed to come off of the back side.
Double checked the other side, same size. I guess I got the holes in the bucket straight! :laugh:
Now with the spacer in place the bolt and washers under the nut will torque down evenly (and straight).
I put the hook on and dropped the 1 1/2" long bolts through and checked the length. If I wasn't going the use both of the USS and SAE washers Kenny provided I would have been good to go. I want the extra bearing surface of the larger washer.
Off to the bolt bin. I have ONE 2" grade 8 bolt....:banghead:
On my way home I'll stop off at the hardware store.
Not really a big deal. The hardware that Kenny provides is perfect for most applications. But there are way too many ways that these can be mounted and sometimes you have to improvise! Being an anal retentive obsessive compulsive over achiever I find that my way is usually the hard way. I try to keep the voices in my head happy. :hide:
Now I have 4 spare 1 1/2" bolts. Watch, when I need 1 1/2" bolts, I'll need 5!
BTW - I like the Zinc Chromate finish! :good2: