A month or so ago, I bought a Stihl MSA 200 c-bq battery powered chainsaw. And after getting a chance to use it, I was very impressed. I have not used chainsaws extensively, but this took everything I threw at it and kept right on working. The battery life on the chainsaw was very good for my needs, I got through limbing and bucking a 10-12" downed cherry tree that was maybe 80 feet long with only one recharge. And that recharge happened overnight, cause I needed a recharge more than the battery! :laugh:
So I started thinking that I should look at the other Stihl tools that used the same battery. After a lot of research, I finally decided on the battery powered Kombi head, the KMA 130r. We got it with the BG-KM blower and the FH-KM "power scythe," a short hedge trimmer head. There are tons of other attachments that look interesting that I will probably end up getting. :flag_of_truce: I was also thinking that if the battery powered Kombi head didn't work out, I could always buy a gas one with more power later.
I'll review the blower in another post in this thread later, but because I have had others wondering how well it worked, I figured I'd give a first look at the Power Scythe here.
When we bought our land, there were almost two acres of Christmas trees. My wife, the "official" Christmas tree farmer, is adamant about not using Roundup to control the weeds, which makes it very difficult to handle. When they were smaller I could mow in between the rows with my 1025r and RC2048. But now the trees are too big for that. Plus, they are on a mountainside, so there are a couple of small patches that have never been mowed due to the pucker factor of going both downhill and side hill at the same time, being constrained the rows! They have been somewhat neglected.
One of these patches is what I decided to use as a test. Blackberries and all sorts of mean nasty weeds have taken over and are as tall as me. Here's a before picture.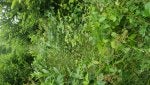 I had made my way up the hill a bit already before I took the picture. So I tried to find the same spot to take the after picture, it's pretty close.
Here's an after picture.
The timestamps on the images are about 19 minutes apart, which is deceiving. After I got to the end of the row, I started back down on the row beside it. So I figure it took me an average of about 10 minutes to get this part cleared. Oh, and after I did all I was going to (had to get to my REAL job), the battery was still showing all 4 green leds. I guess that means it had 80-100% of battery life remaining.
After trying with a string trimmer last year and barely making a dent in it, I'm amazed by this thing! It is so much cleaner than a string trimmer, too! After I was finished, my shirt was wet from sweat, but I had none of the trash that accompanies using a string trimmer on me. I didn't feel all grimy. :good2:
So far, this is the best weed trimming tool I have ever used. I have a pond to clean up, a long creek bank to clean up, a trail up a mountain to clear, and about 2200 neglected Christmas trees to trim and shape. I'll be taking before and after pictures of it all and adding them here.
So far, here's the verdict.
Good points
- great battery life when using it on the lowest power setting
- really cuts down thick brush and brambles with ease
- relatively clean operation, not all the trash I'm used to with the string trimmer
Bad points
- it wasn't cheap (but I've bought other things that weren't cheap and didn't do what they were supposed to, so I can live with it)
- it's not particularly light, though I wouldn't call it really heavy either - slightly heavier than my cheap gas string trimmer