Discussion Starter
·
#1
·
I know most of you want to keep your tractors in good working order. But if you're like me you've probably driven off on your tractor with the parking brake on (everyone fess-up). The warning light is nice but it hardly gets your attention. It's probably not doing the brake lining any good to drive off with them engaged. After doing this one too many times, I decided to do something about it. I added a Warning Chime.
Interested in knowing how? Here we go. This took me about an hour and a half. I apologize in advance for the blurry pictures - Arrrrgh. Apparently my camera doesn't like to focus up close.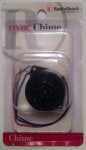 Bought this chime at Radio Shack. It was prefect since it had a wide voltage operating range - 6V-18V.
Removed screws for the dash panel. Removed the throttle control. Removed the dash panel. There was no need to remove the steering wheel.
I determined which wire was providing the dash BRAKE light signal to the dash. It was the yellow wire with a green stripe (second from the left).
Since I wanted to make this a clean installation I decided NOT to slice into the dash harness. I noticed the brake switch was in view looking down inside the dash surround. So I decided to investigate possibilities at the brake switch.
With the dash surround removed I could easily see the brake switch connector. I decided to add the chime wire here in a way that would not impact the 2520 harness system.
The RED wire is IGNITION (+12V)(top), the YELLOW/GREEN wire (bottom) is the signal I want for the chime.
Now, making the chime wiring robust - several additions of heat shrink tubing.
Notice the grounding lug on the green wire.
Mounted the chime with two cable ties to the dash support structure. The same cable ties strain relieve the thin chime wires on the back side of the support structure. Nearby there was a convenient place to ground the chime.
Now onto the last step - tapping into the brake switch signal.
<<< Next Post >>>