This thread is about my son's 2017 Toyota Tacoma TRD bumper upgrade.
A
Pelfreybuilt
front bumper was ordered to replace the factory bumper.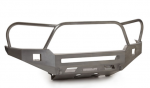 Specs
:
Full Hoops
10 ga. Steel
1/4" Steel Welded Reinforced Brackets
3/4" D-ring mounts
Total weight - 125 Lbs.
The below pic is after delivery and unpackaging.
View attachment 549945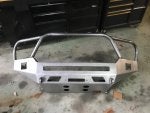 It was then prepped for painting. He realized he should have spent the extra $200 to have it powder-coated.
View attachment 549961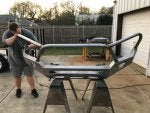 It was primed one evening, then painted the following day.
View attachment 549969
Today we began the installation. First, the grill was removed. After measuring and placing mark lines, Bubba
(it's not his real name, we call him Bubba for schlitz & giggles :laugh
cut off the lower front section of the fenders.
Ya see all the collision dampening parts on the grass and concrete below? ↓ That's now what we call junk.
According to the instruction from
Pelfreybilt
, it states to
test-fit
the bumper
(
now known as, collision protection
) prior to installing the winch and other accessories, incase modifications are needed. So, we did just that,....we test fit the bumper. All was good, so had each a beer to celebrate.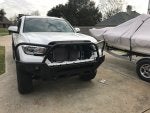 We removed the bumper and Bubba began installation of the
Smittybuilt
X
-
RC
Comp 9.5k
(Synthetic rope)
winch and fog lights.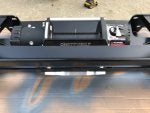 View attachment 549985
Below, Bubba is installing the winch control box.
View attachment 550001
Once that was done, we reinstalled the bumper to finalize the wiring.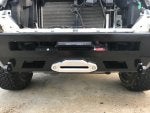 View attachment 550009
By the time the fog light wiring was complete, our daylight had turned to darkness as the Sun set into pappa's back yard in the
State of Jefferson.
Look!
Bubba's on his
cajun cardboard creeper,
attaching the fog light wiring.
I had to help him back onto his feet.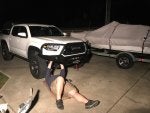 The winch manufacturers states to spool
(wrap)
the first 10' of Synthetic rope by hand, then apply 1000 lbs. to complete the spooling. At this time, we employed the help of my 330. It's curb-weight is 900 lbs. Add the 3-point hitch, front blade(
dirt use only) ,
my 221 lbs. fat-a$$
and a 12 oz. beer,
:lol: we had succeeded in that proceedure. :good2: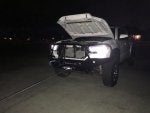 WARNING

--- - File upload limit reached.

To be continued.........................................................Later,