Having never done one before it still worked out OK. The dump bed I had some bends made in the 3/16" steel at a metal shop they had the big brakes to do it with. I had a blast designing the beds pivot mounts and setting up the hydraulic cylinder to lift it with. This was on my 1948 Power Wagon 6x6 I restored/built and did all the work on. Might build something nice for the tractor this year if I still feel good and my health lets me do it. I had to build this thru the winter months and it just meant wearing more cloths!
Can't believe how many holes I had to drill by hand to bolt it together. I wanted to be able to repair it if it got damaged. The Tail Gate was fun too make!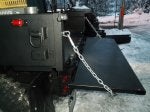 I dressed it up with a little Modern Bling so it would not be called a Jeep! Another picture looking down into the frame and 2 rear axles. Nothing was easy doing this but in the end it was worth it I sold it to get my JD4044M Tractor! I learned a lot doing this project. One thing is not to let a big project scare you, jump right in and never quit till it gets done. Took 1 1/2 years to complete.