So my compressor stopped starting(Kicks breaker) 2 weeks ago and I have been diagnosing it off and on. I do not mind not fixing it, but I can't give up till I know whats wrong with it....
I do not know what this part is...Its clipped to the left side in picture 4. The first pic is its little housing clip.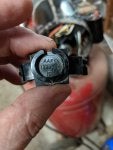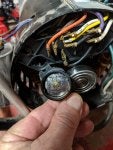 The Motor does not test or even look burned out it never smoked. It spins freely.
The start Cap tested bad , run Cap tested good...I replaced both they both test good...but no help. Points seem clean( I touched them up with 2000 grit paper for a few seconds) and the whole inside is not very dirty...considering its 22 years old. The centripetal switch moves well. manually moving doesn't help to kick it into run.
The one curious thing is the caps never seem to have a charge....which would cause the start issue if I could find out why...No wires are burned or off.