Discussion Starter
•
#1
•
I was finally able to get some seat time on the grapple. I will say this thing is built heavily. The Artillian diverter valve and switch worked flawlessly. I did switch the front hoses on the grapple as I was more comfortable pushing the curl lever out to close the grapple. Using the switch function with the curl function does take some getting use to. After dumping several loads in my learning curve I was able to actually start using it.
I was able to move a large pile of wood in a very short time that normally would have taking me about all day using the forks, not to mention ho many times I would have to get on and off the tractor. Picking up large tree logs was about the easiest I have ever done it.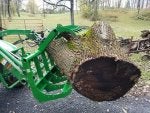 As you see here it can pick up good size logs. Tilting and grabbing logs took some getting use to, I think this would be with any grapple, once you get it you get it. I do wish the grapple closed a bit tighter, sometimes small branches can be a hassle, if there are several it works great.
The whole unit is very tight and the welds look great. I like the fact that CTA put zirk fittings on the moving parts. I was not happy the unit did not come with hoses or fittings on the Hyd. Cylinder. I guess they do that due to the many fittings and hose lengths it takes for the different tractors. I was fortunate to have several hyd. hoses from other items I have purchased, all I had to purchase was the cylinder fittings to the hoses. I guess if you purchase the Artillian diverter valve you would have two extra hoses as I did and use them. They will be extra long but they will work. I can see down the road where I may have to build a small screen in the back to prevent brush from jabbing the tractor grill.
Overall I am very pleased with my purchase. My only regret so far is wishing I had this thing earlier, but I can assure you it will get much use. I chose the CTA based on the fact that I have a lot of brush to clear from the farm. I also will be using it to pick up my logs for firewood, this alone will be an advantage as I am not getting any younger. So if a grapple is in your plans put the CTA grapple in your items to research. I suggest you figure out what your usage will be and that answer alone will narrow down your search. I had mine narrowed down to two, the Artillian and the CTA. I just did not like the three sections of grapple on the Artillian, while I do see a use for them, just not what I wanted to do.