Discussion Starter
•
#1
•
I had an issue of the shed being too short for the snowblower attachment and the John Deere ballast box. I decided to fabricate one instead of using tire weights and loaded tires. The following shows the fabrication process I used.
I pre fabricated the box using a cardboard box to get the fit. This shows the room I had to work with in the shed.
This is the front view of the tractor showing very little wiggle room.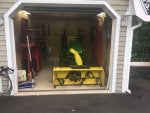 First thing I did was install a receiver hitch on the existing plate.
This is the cardboard mock up showing the indents for the PTO and 3 point lift arms.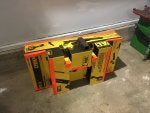 I used a piece of 2" square stock to use as the receiver. This runs through to the rear of the weight and has reed bar welded to it and running up through the weight. I tied the front and rear of the weight together with reed bar also. For the top 3 point hitch mount I used a piece of 1 3/4" square stock and ran reed bar back into the weight to provide strength. Once the welding and reed bar was completed, I poured the box full of concrete.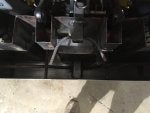 I then welded the top on the box and primed the box.
I then painted it John Deere yellow. The hook screws into a nut half way down the weight which I welded reed bar to prior to pouring the concrete.
I then painted the receiver points and the hook black.
The ballast box mounts to the tractor by sliding the 2" receiver bar into the receiver and putting a pin through the top 3 point hitch mount. Here is a picture of the finished product.