Discussion Starter
·
#1
·
Hi eveyone,
I live on a lake and the weekly chore is raking the accumulation of weeds before I can play on the lake. What I needed was a stiff rake (wet weeds are heavy) with narrow tines (so as not to rake up the sand as well). I searched high and low on the internet and found nothing that fit the bill. The only thing that came close was a pine needle rake, but the tines were too long and flimsy. So I decided to make the rake myself.
Let's get right to the good stuff. Here are pics of the build.
The holes in the angle iron are for tines I found at Farm and Fleet from a hay bailer. The tines are short and stiff.
With removable tongue in place. Some tines installed
With raising and lowering mechanism and linkage. This will allow me to set the depth of the rake in the beach sand.
With gas spring added to keep the lever in the up or down position
Mostly complete, except it's not going to be used on a garden tractor. It's going on my JD2520.
Painting
Complete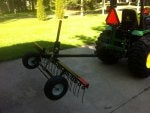 Mounted and ready to use
Pulling the weeds in.
Field Trial Successful
! :yahoo:
Getting it done on the beach.
Cheers all.