Discussion Starter
·
#1
·
Greetings everyone.
I started a project to add Power Beyond (PB) to my 2520. I reviewed the prior threads on PB and took their lead for the plumbing details (thanks). I added a little of my own twist - a dual control valve and a custom bracket. It's not complete at this point, but I hope to complete it soon.
Started with a model of the setup in Google Sketchup
Exported the geometries to my plasma CNC, and cut the bracket parts.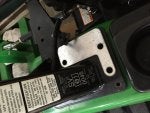 Checked alignment with the valve - perfect
Unfortunately had to cut the vertical piece again to get the right placement on the tractor. I also added a 5/16" threaded hole to the base bracket to relocate the seat belt holder to this bracket.
Welded the bracket parts together. Note the threaded hole for the seat belt holder.
Checked the fit on the tractor
Everything looks good so far. Next I get the bracket powder coated and complete the plumbing to the tractor.
Dave