Discussion Starter
•
#1
•
I've been watching for some time for a nice digital clock for my dash. There's not much room on the dash and I didn't want something that would be difficult to mount. It also needs to be water and dust proof.
When you shop for something on Amazon and then don't buy that something, it seems that Amazon keeps putting additional choices in front of you until you do buy it. This was one of those. I'm pretty sure they didn't have the one I bought the first few times I looked.
[LINK]
The clock that I picked is for motorcycles and appears to be nicely sealed. There is a tough membrane over the programming switches to keep the elements out. It is small enough that finding a place for it was not a challenge. And mounting it was very simple. A round piece of double sided tape, the size of the clock, was included. You can choose to display just the time or alternate between the time and date.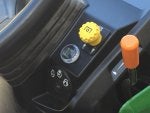 Like any digital display, the glare will make it hard to read when the sun is just right. I just shade it with my hand when this happens. I've only had it a couple of weeks, but it seems to keep accurate time. I don't know yet if the calendar function is "smart", meaning that it knows how many days are in each month so that I don't have to.
Keane