Discussion Starter
•
#1
•
Hoping to do a little brainstorming here - I find everyone here has so many good ideas about so many things!
The deck behind my house. This is our sanctuary - it faces the creek and the view is just awesome:
Now the issue - in the warmer months the sun hits the deck (faces west) at around noon and shines directly on it until sunset. It gets extremely hot along with the fact that I just can't be out in direct sun much anymore. And to add to that the sun super heats the room behind the glass door which is where we spend most of our time. I have heavy curtains that I close to slow this but that defeats the effect of having that big glass door and our view. I have an patio umbrella that I use which shades my chair OK but doesn't help the rest of the deck or glass door.
The deck measures 7'9" x 15' inside the railings.
Because I would have hardly any drop for a type of roof structure I've been thinking of a retractable awning. I priced one out at
Sunsetter
and came up with $2k plus installation (which I don't think we could do ourselves) - way out of the budget for this year.
So thinking of trying to use what I have, we have an EZ-UP canopy from when Mrs Ct. used to do farmer's market. This would be fine for now but it measures 10'x10' which is too big for the smaller dimension of the deck. And this has to be fully deployed to be stable.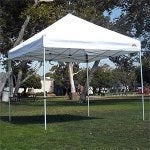 Thinking in those lines a canopy like pictured below would be perfect but can't find any that are less than 10' - something like this that is 7'x15' would be ideal.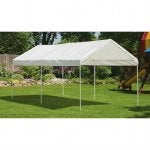 Another option would be to continue that cross beam that is across the top of the stairs to the corners of the deck and string some rafters from the house to that beam. I guess then I could get a good custom made canvas tarp to cover it.
I mainly want this for sun shade - while it would be nice to be rain proof that really doesn't matter as we have a covered front porch. And trying to come up with an idea that would stay around the $300 range - tough I know......