Discussion Starter
•
#1
•
After nearly two years of near total neglect, I am once again working on the deer plot at our cabin property. I have a half acre plot that I developed in 2013 and planted with clover, turnips and rye, with additional spaying for weeds and over-seeding in 2014, 2015 and planting soy beans over rye in 2016.. Annual soil samples have showed the soil is improving, with little amendments required this year (just some 13/13/13 once I put in the seeds).
Earlier this year I girdled several additional trees to allow additional sunlight. Since we are in a CWD zone, I can no longer use mineral blocks, so I decided to start over with the plot. I was hoping to get this done in May, but the Ford 8N was dead.
The first step was to apply herbicide, which I did last month. With the 8N running once again, I used the middle buster to "plow" the rocks/soil. With just one bottom, it took some time, but I was done in a couple of hours. I actually ended a little early, as the rocks tore the carriage bolts off the blade. I was actually surprised to note that we have significantly more "soil" than we had five years ago, which shows the process is working. I followed the plowing with a blade to smooth things out and prepare the soil for some seed.
My final step for this trip was to cut some rough trails through the woods and apply herbicide to create passages for the deer. I will seed these areas with fall red clover. On the next trip (July 6-7) I'll do one more herbicide application. I'll plant the fall mix in late July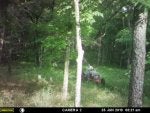 Plowing the first row with the Ford 8N. I was surprised that the game cam was still working...the batteries in this one were installed in May 2017. I had over 2300 pictures. The other camera I use near the plot died in April with 1200 pictures.