Discussion Starter
•
#1
•
I decided to share this hoping it might help someone else. A month ago, I mustered up the gusto to clean up some debris around the yard that was bugging me and the wife. I pushed back some brush that was imposing on our trails from the winter. We also pulled out a huge burning bush, roots and all (yes, using the drawbar). Everything was then grappled out to a brush pile at the back of the property, altogether a few hours work. At some point later, I was mortified to find that the grill had somehow been mashed in.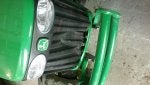 Upon a quick inspection, I could see that although the dent wasn't massive, the damage to the grill components
was
and the hood was going to have to come off just to determine what was needed. Unfortunately, it appears the junior cubicle jockeys at Deere saw fit to construct this grill out of several intricate little bits and pieces instead of basic and robust parts. I guess this is necessary to get the style and appearance of the model line. There are tons of tiny 3mm screws, rivets, and pricey fancy rubber backed washers.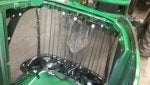 So after all is said and done, this adds up to just south of $450 worth of damage. Replacing the whole hood would have been around $1400. This tractor has just over 100 hours on the clock so there's no way I can leave it like that. So there she sits, waiting for the replacements to arrive. Thankfully, I don't have any needs for it right now so it's no big deal.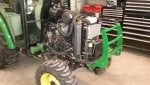 Having owned both 1000 series and 2000 series tractors, I can confidently say that one of the things I enjoy the least about this size tractor is the tremendous dead spot of visibility in front of them. And I know that it only gets worse and worse as you go up in size. I say this as something to consider for anyone dreaming of jumping into a larger tractor. Two other downsides I would mention while on the subject would be the higher center of gravity (tippiness) and the much less sensitive loader joystick controls (due to the use of cables instead of a direct connection to the SCV). But, until recently, if you wanted a Deere with a cab, the 3000R's were it.
With regard to the damage to my grill, for those thinking I should have had the add-on brush guard from Deere installed, it would not have helped. This particular piece of debris somehow snaked under the lowest cross bar of the brush guard and the add-on Deere unit doesn't cover that area.
:greentractorride: