Discussion Starter
·
#1
·
The 1026R is proving to be very maneuverable, fun to drive. This is a small area of a 50'x100' garden plot... disking down some of the summer garden crops. This particular area was in sweet corn; raccoons "got it" in the end, albeit we had several meals before they found it! So, first "chopped" the corn down, using a Grasshopper 616 mower set as high as possible. Here am disking it, using a Cat 0 Brinley 4'-wide disk, such that with the 1026R, the entire outfit is small enough to easily move around in this small space:
http://www.youtube.com/watch?v=UE4zjOEP2dE
Then, hooked-up the Cat 1 JD 647 tiller... did a fast, rough till first (here in the video), then went over a couple more times at slow speed and plate in back down. This is very difficult soil to till... hard clay... have to work at it:
http://www.youtube.com/watch?v=4X-GvKYuFSo
All together, this produced a very nice seed bed... from corn field to this in 3-easy (and fun!) steps...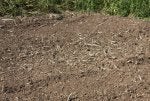 ... ready for planting the fall, cool season garden crops like the lettuce, spinach, beets, etc...