I'm finally getting to a project that's taken nearly a year to get this far.
I've had the parts painted for a while now:
Today it's time to mount the tires, start by cooking them: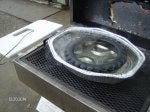 hot water for 20-30 minutes, soap them & pull them on. This is the part I'd never done & was a bit afraid of, wasn't as bad as it looks!
Fronts first:
A threaded rod in the vise to hold the rims:
Tires are all on now, hard part is over --- until time to line up the decals!
I've restored pedal tractors before, just never had to mount the tires, this was the only way to get the correct tires for the older Eska's.