Discussion Starter
•
#1
•
This past winter we burned our wood pile down to absolutely nothing. So it was time to put my new Stihl MS 391 to work, (my Husky 55 quit and I didn't have time to work on it, good excuse hey?). The power company came through and dropped 5 or 6 trees so I dragged them out of the bush and got to work.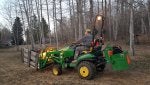 Mrs. C playing with her Mother's Day gift, a Dewalt 20 Volt 12" chainsaw, she loves it!
All done with the work, changed the oil for the season and ready for storage.
By the way, I re-purposed my old battery out of my 1026R by putting it on my wood splitter. It should last years I hope.
Time for a cold one.
It feels so good to have the shed full again. This is about 3 chord which is good for just about two years. Mostly poplar but a little bit of maple mixed in there too.