Discussion Starter
•
#1
•
For those following along with my ramp experience with my 18' Lamar 14k utility trailer,
"18' Lamar 14k utility trailer, need ramp advice"
, I wanted to create a separate thread for tying down my tractor onto the trailer.
I have a 1025R TLB that I am wanting to transport, but in the past have only transported a Cub Cadet mower a grand total of one time... To me, this feels like jumping in the deep end of the pool since I really don't have any experience doing things like this - I certainly didn't grow up around it either. I sure for all of you all with goosenecks and actual heavy equipment this is something you can do in your sleep, so I'm hoping I can learn a little from you.
I used two 20-foot sections of 5/16" grade 70 chain and four ratcheting chain binders. Since this tractor is small, I didn't feel like I could go around the axles without crushing power steering components on compressing the tire. (I didn't want to pop the bead). As a result, I used some unorthodox locations - Are they safe for others + the tractor?
Through the backhoe frame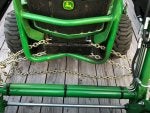 Used the front weight bracket to chain down the front since it seems strong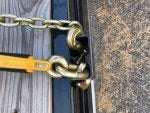 Any issues or pointers that you have? I did take it on a short trip at slow speeds around the neighborhood - No issues. :hide: This doesn't mean I feel confident to hit the highway for a two hour drive quite yet!