Discussion Starter
•
#1
•
Just picked up my 48" landscape rake from the dealer today. Been looking for used for about 6 month, but nothing came up that peaked my interested, was small enough, or close enough to be considered a deal.
Just did a major renovation with new septic, waterproofing entire foundation, garage and weeping tile, so my 1,1/3 acre lot had been turned into a rocky dirt pile.
I could not find a small one to rent or buy used so bite the bullet and picked this up from jd.
Frontier LR5048L
From doing a little research, the "50" series seems to have been design for the scut machine, particularly the 1 series rated a 18 pto hp. The price on these units was also much more in-line with what i was looking to pay for a "one time use" implement.
Whats nice about the "50" series is the wheel kit is much more affordable then the other models. At $230 versus $380 (for the "20" series) I decided to add them to my order in hope of extending the use of the rake to leaves, branches, pine needles and still protecting the lawn.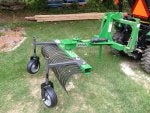 Whats also nice about the wheel kit for the "50" series, is it can be ordered with the rake and be discounted. The "20" series is a parts order and you pay full price.
Ran it around for about 30 min this afternoon, and looks like it will do a great job as it was pulling up some rocks i could not even see.
For reference, here are the pricing i was looking at in Cdn funds.
LR5048L $605 Wheel kit $230 Paid $770
LR5060L $696 Wheel Kit $230
LR2060L $765 Wheel Kit $380 Quoted $1117