Discussion Starter
•
#1
•
Menard's is having a sale where anything you can get in the paper bag offered at the entrance to the store, you get an extra 15% off. The 64oz Howe's is on sale for $9.95, which is a decent price but not a great deal. That's the price which its sold for at our local Farm Store.
Take the extra 15% off by putting the Howe's in the Sale Special Bag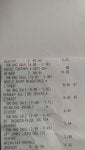 and now it's a great deal.
The extra 15% off is through the 18th of January, 2020.
Net price of the 64oz Howes treatment is
$7.49
, which is the best price I have ever paid for the Howe's Anti Gel and Lubrication Treatment. I only bought two bottles as I had bought 2 other bottles a few weeks ago. Each bottle, when used as suggested and in moderate cold temps will treat 320 gallons. In very cold temps, you double the amount of Howe's used per gallon so the 64oz bottle will treat 160 gallons of Diesel fuel.
It's
$8.99 per 64 oz bottle on Amazon
, which is where I normally buy it and there is no delivery charge for being a Prime member.
Basically, with the SCUT's and Smaller Diesels such as the x75x and the 1 and 2 series the diesel engines consume roughly one gallon of diesel fuel per hour on average. A little more fuel when using the PTO, a little less when not running the PTO. Figure on average the treatment is used for the very cold weather blend which treats 160 gallons of diesel, the $7.49 works out to cost about $0.05 cents per gallon to treat the fuel, which is a bargain. Using it at the normal strength, then it's even less expensive at $0.03 cents per gallon.
Being able to prevent fuel gelling and paraffin separation as well as provide crucial fuel lubrication for a nickel a gallon is a great deal. No limit on the quantity and everyone you can get in the bag you will get the extra 15% off. I would bet the bag would hold 10 of the bottles or more.............
Special sale runs through the 18th of January, 2020.
Howe's Diesel Fuel treatment and Anti Gel treatment at the cost of a nickel per gallon of fuel treated. Get you some........