Discussion Starter
•
#1
•
Last year I started working on the drainage for the front of the house.
The yard slopes to the house from the road and in a heavy rain there would be a lot of water in the front yard and it would pool near the porch.
The downspouts were connected to piping in the ground but something wasn't working.
I found the pipe in the ground. It was your typical 4" round slotted drain pipe. It was buried very shallow and FULL of mud. Since it was shallow, it was easy to remove. I just pulled it out in sections by hand.
Then I dug a new drain line and I used solid DWV pipe.
This is what it looked like when I started.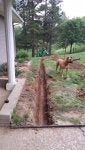 I have two of the three downspouts connected to the pipe and I put in two ground drains as well.
The east corner of the porch roof it lower than it should be. :banghead: Another project is to re-do the front porch and that includes new posts for the roof to bring it back up to level. :munch:
Where the corner of the porch roof is is where the second ground drain is. I built a little catch basin there and drilled a hole in the bottom of the gutter so it would drain.
We have been looking for something to help collect the water better and I found this 25 gallon feed tub.....
I put a shower drain in the bottom with a short stub of pipe to direct the water into the top of the 6" ground drain under it.
Added a little river rock for some weight to hold it in place and reduce some splashing.
This is what it looks like now.
I still need to attach the last downspout to the drain. My wife wants to put a rain water barrel on that downspout. For now I have some pipe just ran to the open part of the ditch.