Discussion Starter
•
#1
•
I just stumbled on this. Nowhere did I find it in the manual or anybody mentioning it online so I thought I'd share for the other 1023E owners out there looking for a softer ride. I'm still working on the bracket to replace my seat with an actual suspension seat, but for those that may be satisfied with just a little softer seat suspension, give this a try.
Seems there are 3 possible positions for the seat bumpers. Farthest away from the seat hinge gives the stiffest ride-
Moving the bumpers closest to the hinge allows the seat to have more give.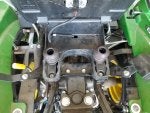 Not a whole lot better, but it is an improvement.