Can you post a photo of the area where the O-ring is located?
You might want to try installing a Packing(square ring) or a Quad-Ring(X-Ring) in it's place.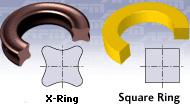 In some applications, I've used a Quad Ring in place of a O-rings and am very satisfied.
These are normally found at a Reputable Hydraulics Repair/Supply Shop.