Discussion Starter
•
#1
•
My 1025R developed a small hydraulic fluid leak at about 30 hours. By small leak I refer to a spot on the concrete under the rear axle about the size of a quarter overnight. Sometimes there was no leak for a few days, and then another spot would appear. I cleaned the underside of the tractor but couldn't find a specific leak location. I changed the filter, screen and fluid. I used JD a JD brand filter and Hy-Gard fluid. The screen was remarkably clean. The intermittent leak continued, though. The longest without a drop under the tracor was a couple of nights.
I came across several threads and posts recommending a Blue Devil brand product.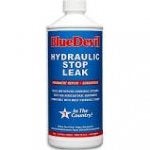 I added 16 oz to the tractor, and within a day the leak had stopped, and has not come back. That was about 20 hours ago. SO, here's my question.
My next scheduled (JD recommended) hydraulic fluid change is in about another 55 hours. Should I do the fluid change early to remove the stop leak stuff now that the leak appears to be sealed? Or should I just leave it as is and wait to do the service?