I just installed the independent lift option on my 1025R. As others have posted, the instructions are not real clear. Below are some photos I took of my installation:
The photo below depicts the tractor disassembly required to install the kit. The installation instructions included with the kit just gloss over this. However, the Technical Manual, TM126919, provides a detailed step-by-step procedure. As such, I won't repeat those details.
This photo depicts the position of the hydraulic lines of the kit, those painted black. Note that two of the three lines depicted are installed on the backside of the forward/reverse lever dampener (silver colored tube device). The lever end of the dampener must be taken loose to position the added lines. Also, the wiring harness is positioned on the outside of the added lines.
The photo below is a rear view looking down along the side of the frame rail to depict line orientation.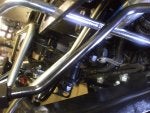 This photo is a top down view of the hydraulic line positioning. Again, the black painted lines are those added by the kit.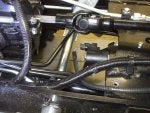 This photo is an upward view of the electric valve and the hydraulic connections.
The photo below is off a thin wall wrench that was required to secure some of the hydraulic fitting locknuts associated with the electric valve. As most of the fittings are 90 degrees, a standard wrench would not fit between some of the fittings and the valve body. This particular wrench is a Craftsman PN: 44474 I also had to test fit a few different brands of wrenches to find one whose heal and cap dimensions would provide the clearance necessary to fit on the line nut of the 90 degree fitting on the frame rail side of the valve body.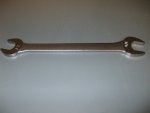 As other members have posted for operator convenience, I installed the switch in the panel cutout originally occupied by the PTO switch and cut a new mounting hole for the PTO switch adjacent to it. I made the panel cutout utilizing a utility knife. The panel material is fairly soft and not difficult to cutout.
I've also attached the installation manuals for the kits. I've marked up these manuals to add clarifications as well as an excerpt from the sales manual, as suggested by another member, which provides a color coded illustration of the different lines utilized in conjunction with the Power Beyond and Third SCV options.