Discussion Starter
•
#1
•
I found this from another site - it was posted by a guy I know who has some insight on the new models before they come out.
Per his info:
The X700 series gets a facelift. The new models are as follows - replace all 2's in the model number with a "3", so a X720 becomes a X730. Replace all 4's in the model number with a "5", so a X748 will be a X758. There is no longer a diesel all wheel drive/all wheel steer, so the X749 does not have a model replacement.
There is no special edition models yet. The biggest change are the hood, seat and dash layout.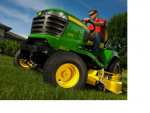 The tractor pictured would have been the X700 in 2006 through 2012, is now the X710.
The 62 inch deck has been dropped in favor of a 60 inch high capacity deck, which may be a 7 iron deck (not positive).
Other updates:
2013 X700 series, limited Cat 1 hitch still available
540 RPM rear PTO still available
9 gauge 60 inch high capacity deck
no loader yet, but in the works. May not be ready until 2014 - frame has been changed to accommodate the new 60 inch deck
Still have AWD, AWS, & AWD/AWS models except as stated above, no diesel AWD/AWS, as the X749 has been dropped.
The diesel 2WD (X750) and 2WD/AWS (X754) and AWD (X758) will be available (just no AWD/AWS diesel model).
X300 & X500 series - no changes
D100 has been dropped for a D105 which will have hand hydro control
1 Series changes:
1026R will now be the 1025R and the 1023 will still be available
Prices should be available in a few weeks.
I want to thank Sergeant (John) for this info. I don't know if he's a member here or not, but just in case he isn't, I posted his info here. (note to self: contact John to get him to join).