I really enjoy your comparison videos as I've said before. I'm sure a lot of people appreciate these and use them as a guide.
One thing came to mind when watching this one - please take this as a constructive comment -
When reading the thread linked below this very subject came up. A few people, when comparing the X7xx and 1-series spoke of the 1-series as being "huge" or "behemoth" and the like. Your video will really help with this. But - I think if you had shown the 1-series without the loader on it would have made a better comparison. When people (suburban lot owners) see that loader they will automatically have the same comments about size. But when in reality there is little difference in the size.
I in fact went into my dealer years ago looking to replace my 332. I was looking at the X7xx because I wanted another diesel. The salesman steering me right toward the 2210 sitting next to it for all the reasons stated in your video and in the thread. the 2210 (predecessor to the 1-series) was in the showroom without a loader and with turf tires and made for a very easy comparison. In fact I bought the 2210 without a loader (an option that some people may not know exists). My salesman asked me 6 different times if I was sure I didn't want a loader. Long story short I had them install a loader 3 months later.
Also the ROPS on the 1-series can give the impression of larger size - but at least it folds. The 2210 was a fixed ROPS.
Delivery day -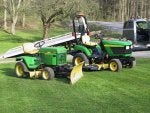 I know you explain it very well but a picture says 1000 words - first glances get set in one's mind.
http://www.greentractortalk.com/forums/lawn-garden-tractors/158025-justifing-x7xx-diesel.html