Kenny is now offering a High Pressure Test Gauge, or HPTG for short, for sale. They are so new, he doesn't quite have them up on the
Kenny's Bolt-on Hooks
site yet.
Edit 11/10/13: The new webpage is now online at:
Ken's Bolt on Grab Hooks <<Hydraulics>>
I managed to get my hands on one, thought I'd show it to you guys.:thumbup1gif:
First off let's explore what it is and what it's used for. If you know Kenny, he's one of our resident hydraulic gurus. To work on, troubleshoot, repair, and understand hydraulics, one must know about flow and pressure. This HPTG is a gauge mainly used to find out what your tractor's relief valve is set at. It can also test other hydraulic pressures on your tractor. If you suspect you may have a low pressure issue, this is the tool you'll need to have to start troubleshooting.
Kenny's HPTG is a liquid filled gauge that reads up to 5000 psi, more than adequate for our tractors. The 0-5000 psi range is actually perfect for our tractors. Most of the SCUTs and CUTs will have a normal pressure between 2000 and 3000 psi. This puts the normal pressure right in the middle of the gauge where it's easiest to read and most accurate. It also gives you room to see excess pressure in addition to low pressure. Having a liquid filled gauge is also important. Liquid filled gauges usually have something like a glycerin or silicone in them. This dampens any fluctuations and smooths out the needle making it easier to read and makes it longer lasting. It comes with about a 2 foot long hose and a 1/4" male QD that will fit all of JD's medium and sub-compact tractors. The gauge is fully assembled and has a thread sealant already applied. This is truly a "plug and play" tool. :good2: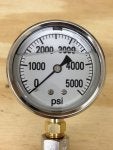 Here you can barely see the thread sealant. Talk about neat and clean. That's attention to detail right there.
So how does it work? Quite simple actually. Just plug it into one of your loader hydraulic port quick disconnects. Here I plugged it into my yellow port.
Now according to my tech manual, the hydraulic system relief valve setting for my 2720 is supposed to be 2421 psi. With the tractor running, actuate the joystick to activate the port you hooked into. For me it was bucket dump/ joystick to the right. Only actuate it long enough to get a reading, definitely no longer than 30 seconds. When the fluid is flowing through the relief valve, it builds up heat very fast. You'll hear the engine labor a bit harder too. Think about it. All that energy the engine is putting out is going somewhere, it's being converted to heat in your hydraulic fluid.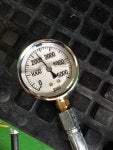 Looks like I'm down almost 200 psi on hydraulic performance. So I'm off to go find a few wrenches and adjust my relief valve. I should be able to lift a few more lbs in the loader after adjusting it up to spec. Overall it's a very good quality tool that more than paid for itself in found performance on my tractor on the first use. :thumbup1gif:
Thanks Kenny!:drinks: