Discussion Starter
•
#1
•
Alright so browsing the thread's I've seen WHAT ya'll are cooking (or drooling over somebody else cooking) How about you show us (and hopefully tell us about) what you're doing the cooking on!!
I have three,
a Weber Grill that is very ... unphotogenic and honestly I have none of it
a Offset Chargriller BBQ that has a few modifications, mostly for heat control. I've added plates under the grates, above the firebox opening to force the heat all the way across. At it's best, it was down to a 5* difference side to side ... but I've lost a few of the plates and it needs some work as I'm almost always firing up big mama ...
Taken at old house, new side firebox two years ago, looks about the same now - Rusty!
Big Mama ... a Custom Made (by me) Trailer Smoker ... It's using idea's from each of the major Mfg's like Lang, and blending them together to make a Smoker that once I get it hot, I don't have to fuss with again. If it's really windy or Cold I'll have to leave the firebox door open a bit, it could use a few more dampened holes - Winter Time Project
Just after it was 'finished'
During Construction:
it holds a bit...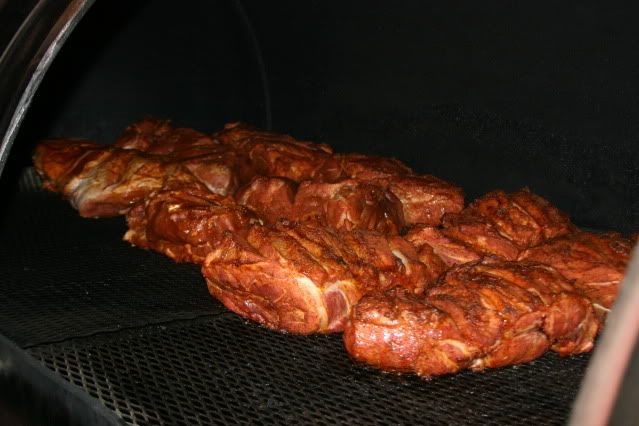 It IS a reverse flow, works great. Almost no variation from one end to the other with the plates in it, being almost 7/16" Thick, once warm ... it STAYS warm, so while the fire might peak and valley ... the cooking chamber doesn't. ...
Okay lets see what You've all got!