I have a 60D mower deck and two years I dropped the mower on my toe, when I was putting it up for the winter. Black toe nail for a solid year. So when John Deere came out with the Load-N-Go I was already SOLD. Then I paired it up with Mower Deck Axle. That is a GREAT combination!!!
I attempted to make a mower stand last year and it didn't go very well. The Mower Deck Axle Co. Had their product and thought I could make something just as good. Well not having the equipment needed to build with I couldn't and didn't want to pay somebody else. I thought that the mower deck axle would be wobble, but it isn't it is actually very solid.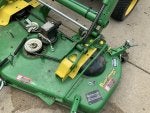 Notice the Load - N - Go will hit the 4" wheel when trying to back off the tractor.
Solution is to remove that one wheel, once tractor is off the load-n-go system put the wheel back
Thanks to Mower Deck Axle for the axle and the John Deere for making the load-n-go system!!!
Mower Deck Axles,Carrera,Cayman,John Deere,Kubota
From a previous post I wrote here.
I have a 60D deck that I bought with my 1025R tractor in 2016. I contacted GreenPartsStore about whether this would fit my deck or not. The answer back I got was " we are not really sure if it would fit your model as the code for your model is 5320m and they show 5325m." So anyway after dropping the mower deck on my tow over a year and half ago and finally go my toe nail back. John Deere comes out with the Load-N-Go. I will find out if this will fit my mower deck when it arrives. if not i have a few modification to make and I'm sure it will fit then. SERIAL Number 1M01060DTEM050437 on mower deck. Tractor PIN 1LV102543GG104547. So this should be Fun!
Welcome to GreenPartStore - John Deere Parts Superstore. Parts for John Deere farm equipment, John Deere Lawn Tractors, John Deere Garden Tractors, John Deere Walkbehind Mowers, John Deere Front Mount Mowers