I'm starting my 1025r journey (research), and looking for a good loader mounted snow plow with hydraulic angle capability. I'll be plowing on concrete and asphalt for my house with a 4 car garage and a large circle drive. It appears that these (as well as many other items) have really gone up in price. I did find some good info in
this
thread.
The research that I've done so has brought four options to the forefront.
1.
John Deere AF10F
. ~220 lbs. $2600 from my dealer. Probably the safe option, but seems a bit light, and overpriced compared to some of the other options. Options are pricey!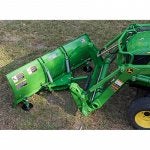 2.
CTA
. ~460 lbs per their site. $2000. Much heavier option. I don't see springs or anything that would indicate trip edge protection.
@Drifterbike
3.
Tar River
- ~350 or 564 lbs?. $2500. Only information I can find is on GWT. I don't see this listed on the Tar River site. Built like a tank. Maybe too heavy? I haven't seen any info on this outside of GWT. Any members here have one?
4.
Artillian SPA-60HYD 60
" - ~209 lbs. $1700. Appears to require their bracket system. Plow doesn't look as easy to remove/install to the bracket as the JD connect system. I'll probably end up with their forks, so I'll eventually have the bracket anyway. I thought Tim was going to do a video on this, but I couldn't find it on YouTube. I did find one of him plowing snow with it using the (broken) PVC pipe edge.
@Tractor Tim
As an engineer, I usually to spend to much time doing research/analysis on these types of purchases, so I'm probably overthinking this, but buy once, cry once.
Looking for any opinions/recommendations.
Thank,
Aaron
ETA: No hurry on this as my local dealer says he probably can't get a tractor until mid-January. I'll stick with my snow service until I have a tractor & plow.
ETA2: Adding picture of the area to be plowed.